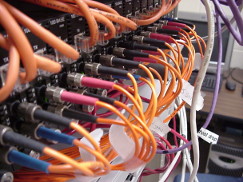 The University of Central Florida's Institute for Simulation and Training (IST) won a contract and collaborated with UCF Computer Services & Telecommunications (CS&T) to deploy a dedicated high-speed research network.   This network is entirely separate from the UCF enterprise network, operates at 10 Gbps from border router to wall jack and connects directly to Internet2 via Florida Lambda Rail without packet loss.  It enables access in specific rooms in the Physical Sciences building, Engineering 2, Harris Engineering Center, Partnership III, and the campus core.
Now known as the UCF Advanced Research Network (ARNet), our research network was funded via an NSF Campus Cyberinfrastructure Network Infrastructure and Engineering grant, and it facilitates research at UCF that requires large data and efficient access to computational resources such as UCF's Stokes HPC and XSEDE national resources.  It implements the first stages of the NSF Innovation Platform and enables future potential for specializing network resources for high-end data needs by supporting software-defined networking, as well as persistent performance monitoring via tools such as ESNet's perfSONAR.  For more information about our dedicated research network contact Paul Wiegand, w...@ist.ucf.edu (Click "..." to reveal address).
If you have a room with a jack on the ARNet and would like to activate your jack, please submit the following information, and someone will get in touch with you with the subsequent steps to become connected.
Name of the person (faculty or full time staff member) responsible for that machine
The building & room location
The jack ID for the connection
And the MAC address of the NIC you will be using
Please note the following:
To have access to the research network, you will need a machine with a 10 GbE NIC with RJ45 connector (**not** fiber) -- for example an Intel X540-T1
To connect, you must have a Cat 6A cable (a standard ethernet cable will not work)
You are not permitted to use your own switches, hubs, or routers on the research network
Machines are not permitted to be dual-homed on the UCF enterprise network *and* the research network
You are responsible for keeping machines on the research network secure and up-to-date